The quaint city of Savannah marks the north-easternmost point of entry by road into the Empire State of the South i.e. Georgia. The city boasts an eclectic mix of history, creativity, culture, and beauty, similar yet disparate in several ways to the likes of New Orleans and Charleston.
Renowned for its moss-laden oak trees and cobblestone streets, Savannah is an adorable place to see. If you don't believe me, use this itinerary and experience it firsthand.
Transportation
There are multiple ways to explore the city. You could take a hop on hop off trolley, ride on a horse-drawn carriage or take a guided walking tour.
If you have to drive into the city, park somewhere closer to one of the shuttle stops and let yourself loose for a wonderful day of exploration. Spoiler alert, a couple of spots on this itinerary require for you to drive.
Day 1
Breakfast at The Collins Quarter
The Collins Quarter is the most popular breakfast place in the whole of Savannah and for good reason. Savory dishes with an Australian touch content your taste buds, belly and heart all at the same time. If you're confused with the variety of options on their menu, Avocado Smash is a no-brainer.
In addition to the food and modern art decor, the organization is neat too. They text awaited customers when their table is ready.
#TravelSmart Tip
On holidays or weekends, I suggest you reach 8 30 am to avoid the crowds and find a street parking spot. Reserve your group in the virtual line and take a stroll around. Visit an attraction or two and return when you get a text. Chippewa and Wright Squares are the closest squares.
Park for at least 3 hours as you will be exploring the next few close by attractions on foot.
Colonial Park Cemetery
The Colonial Park Cemetery is one of the oldest structures of Savannah with dead bodies buried here from as long as 1750. Although this site honors several important burials from Savannah's history, it also serves as a great park to take a peaceful walk.
For a spooky take on the cemetery, you can choose to experience a ghost tour through one of the many operators, some of them reporting a paranormal activity during the tour. Such perfect timing by the spirits right?
Cathedral of St. John the Baptist
The splendid architecture of the Cathedral of St. John the Baptist makes it the most visited attraction of Savannah. It includes an elaborate altar, stained glass windows, and every other intricacy of a cathedral leaving a grandiose impression on its visitors.
Entry to the church for a self-guided tour is permitted between 8 am and 11 45 am, and 12 45 am and 5 pm from Monday to Saturday. So, don't plan this day to be a Sunday and miss this marvel.
SCAD
Design lovers will be overjoyed to take my recommendation of this free hidden gem. Savannah's College of Art and Design is a world-class institute for, you're guessing it correct, art and design.
The visitor building has three floors open to the general public. Each of these floors has colored walls and fascinating pieces of design that even the non-artistic kinds of beings enjoy watching.
The highlight is on the top floor, a super-artsy lit up tree. Please excuse my lack of words for describing great art in general.
Open Air Meal at City Market
After that morning exploration, take a shuttle or drive to the City Market. This place is ideal to rest your feet, and people watch while enjoying some casual lunch in the open with live music.
The street crossing at the center of this four block market is also the starting point of one of the carriage tour operators, so you'll see horse carriages come and go all the time.
Check out the delightful shops for gifts, souvenirs, artwork, and jewelry. These shops are located inside restored warehouses from the 1700s.
Ellis Square
America's first planned city Savannah is laid out in a grid scheme and boats 22 iconic squares distributed symmetrically. Zoom into the map at the end of this page to visualize it.
Out of those 22, Ellis Square is my personal favorite. One can enjoy live performances here, meet with locals and visitors, or merely relax in the inviting atmosphere. Thanks to the city's open container policy, you can take your drink in a to-go cup and enjoy it here or any open space within the historic district.
River Street
Sipping your drink, make your way to the famed River Street. As the name suggests, this cobblestone street is laid along the mighty Savannah River. Fireworks take place on the first Friday of each month at this buzzing waterfront. The July 4 fireworks are an extravaganza.
To feel the Savannah River up close while gazing at the city riverbank, take a public ferry or one of the boat tours.
Just in case this itinerary leaves you with any questions, there is a visitor center on the street to answer any of them (you can email me too btw).
The street is lined up with incredible shops, galleries, restaurants, taverns, nightclubs, and bars. Hop around and enjoy the night.
Day 2
Maté Factor
Begin your day with baked goods and a cup of coffee in a rustic and cozy setting at Maté Factor. I arrived here for brunch, so I went with the filling Veggie Burger.
If you're an early riser, you'll be happy to know that this is one of the only places that open at 6 am on weekdays, and 8 am on Sunday (closed on Saturday though). Looking at the rates, you'll realize, this place gives the most bounce for the ounce.
Forsyth Park
Forsyth Park to Savannah is the equivalent of Central Park to Manhattan. This park is the most favorite local spot for viewing majestic oak trees that form a canopy with Spanish moss on top of them.
The oak-lined walkway passes through an exquisite fountain around which you may find music hobbyists, dog walkers, families with kids and several locals enjoying the beautiful surroundings.
#TravelSmart Tip
The park also features an outdoor stage that hosts events year-round. Check out their calendar in advance and adjust the schedule accordingly.
Wormsloe Historic Site
If you thought Forsyth Park's trees were such wow, wait to check out the grand oaks of the Wormsloe Historic Site. The site is only 10 miles away from downtown.
The property charges an entrance fee of $10 in exchange of views of a picturesque driveway and ruins of a colonial estate. You'll find way fewer crowds than Forsyth to check off that epic Savannah solo shot off your list.
Fort Pulaski National Monument
Not a lot of people visit this 15 miles distant offbeat destination during their visit to Savannah, but I urge you to do it.
The siege of this 150-year-old fort is a significant event in Georgia history. I'll skip the history lesson here and let you learn about it in person. The visitor center outside the fort runs a suspenseful documentary every hour. Outdoor enthusiasts may like the short hiking trails too.
Explore the fort from inside to get a sense of the lives of those who stayed, fought and died here. From the top of the fort, you will overlook the Tybee beach and the surrounding clear waters.
Leopold Ice Cream
It's not usual for an ice cream place to land on a must-visit attractions list (or is it?).
Leopold Ice Cream is not only popular for its hand-crafted ice creams but also for its interiors. Stratton Leopold owns this shop. The walls are filled with posters of the films he worked for, along with his pictures with celebrities. A jukebox and filming equipment also add to the list.
The lines can get pretty long here. I suggest you try the classic original flavors, Lemon Custard and Tutti Fruity that have not changed since 1919. Leopold Ice Cream will complete 100 years on August 18, 2019, and I bet it's going to be an extravagant affair then.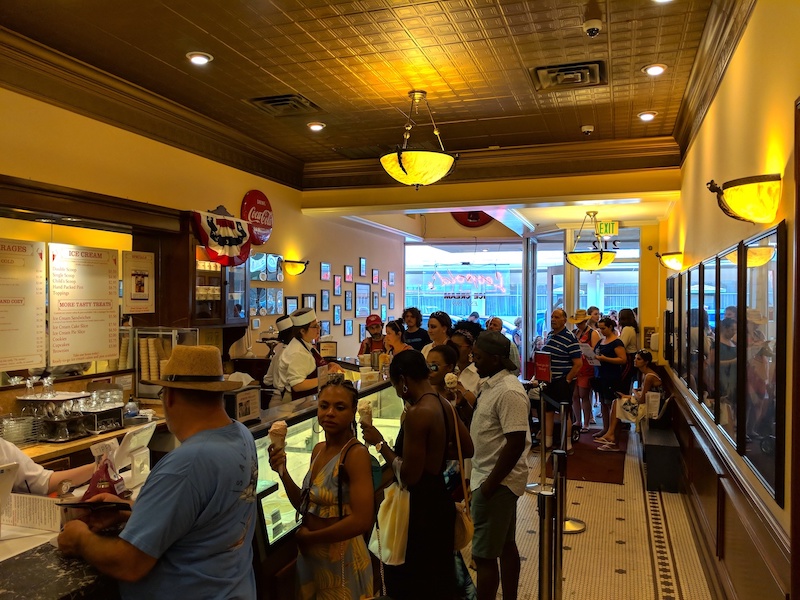 Since you are there, get a selfie with the Savannah-famous Lucas theater right around the corner, or watch a show if you'd like.
Bonus: SCAD Museum
Those who did not get enough from the SCAD visitor exhibits can visit this museum. It has quirky forms of art beyond the usual paintings and murals.
Even before you enter, there are large New York Macy's style windows with cute polar bears in it. Upon entering, you'll see a couch made out of denim pants and shirts.
The $10 general admission or the $5 student admission can be avoided on the first weekend of every month if you have a Bank of America card. Inside, you'll get to see a variety of rotating seasonal exhibits. Check out their website for more details. They have a cool balcony to hang out at and reminisce all the fun you had in Savannah.
Do you think 36 hours are enough in the beautiful city of Savannah? Comment and let the MOE community know what you think. Happy Exploring!